This stop on HoodScene brings us to the sunny southeastern section of San Francisco, a neighborhood called Bayview / Hunter's Point.
Rewind about 70 years, when WWII brought thousands of blue collar workers down to this part of the city to work at the naval shipyards. From 1940 to 1950 the area's population quadrupled to 50,000. The African American population alone rose from 7 to 11,080. After the end of the war and subsequent closing of the shipyard, most of the folks who moved to the Bayview for work found themselves jobless.
Geographic isolation, racial segregation and toxicity left over from the shipyards all contributed to the marginalization of the Bayview and it's residents. Over the last few decades, this neighborhood has made news more for it's poverty, crime and drugs than anything else. Let's take a break from the blight and cook up some smiles.
Frisco Fried and Auntie April's are the two Chicken and Waffle players on 3rd street. I felt it was my moral obligation as a global eater to officially and impartially sample each rendition and share my experience for all ya'll to read. Or you can just look at the pictures.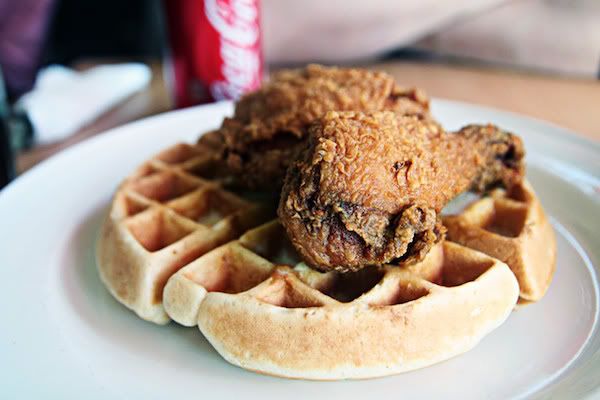 Marinated and freshly dusted fried chicken @ Auntie April's. Supremely tender and moist, without any of the dark meat sogginess that occasionally causes problems with under-fried thighs. Hate that. Peep that perfectly browned and blistered 4mm crust.
Documenting the precise moment where sweet joins savory. The proper intermingling of hot sauce, butter and syrup is the first step to mastering the art of Chicken 'n Waffle consumption. You want vinegar laced spice and crunch in each bite. You want sweet grade B maple with that salty fried bird. I'm also firm believer that the square shaped nooks in Belgian waffles were made to hold as much butter drippings as possible- so fill said nooks accordingly. If you've been counting calories up to this point, then you've lost count.
A six block stroll south on 3rd street gets us to Frisco Fried, a decidedly new school spot decked out with orange walls, signed 49ers jerseys, multiple deep fryers and of course, a selection of jellyroll inducing soul food. The fried chicken here was indeed nice and crisp, although the tenderness and seasoning of the bird fell short to Auntie's. While perhaps playing second fiddle in the experience, it's important to give the waffle it's share of the spotlight. Both versions were the softer and fluffier type which I'm usually not crazy about, but my dining partner and I agreed the waffle at Frisco had a bit more excitement going on in that batter. Nutmeg, cinnamon, vanilla?
In the end I gotta give the nod to Auntie April's for her execution of fried chicken. It's really some of the best of its kind, served up in a casual, pay-at-the-counter neighborhood spot with absolutely decent pricing. I'll most definitely return to both eateries for further intensive research on the topic...as soon as I'm done digesting...