Melaka.
Roti Canai

. Freshly tossed and griddle fried dough. Another popular breakfast for Malaysians. The bread is soft, stretchable and crispy on the outside. I'd start my mornings with a snack like this any damn day. Truth.
Get this kid some braces. Market in

Kampung Baru

district of K.L. , home to fabulous Malay grub like..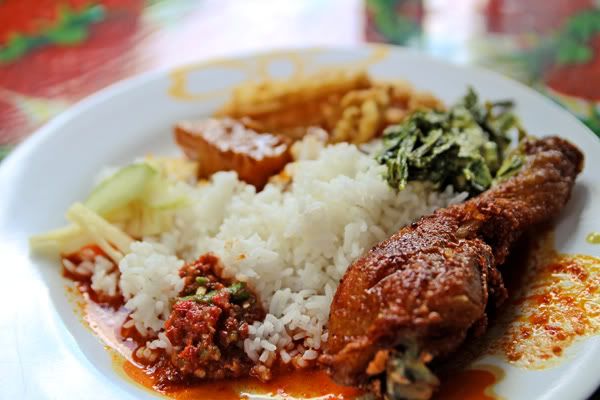 ..Nasi Campur.

Just your basic pick-and-choose rice set-up. 'Cept no Pork! No silverware provided- just go ahead and scoop it up with your

right

hand. Tons of tasty local eateries can be found on

Jalan Raja Alang

, close to the mosque.
Bak Kut Teh

. Aromatic bubbling pot of pork parts. Star anise, cloves, cinnamon, fennel seeds simmer with the swine and mushrooms for an earthy bowl of wake-me-up.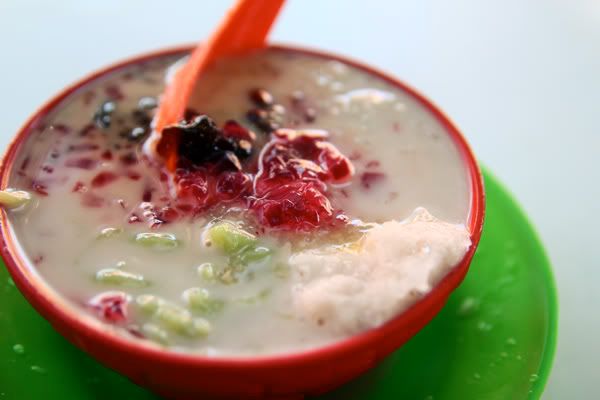 Cendol

. Fresh coconut milk with jellies, beans and shaved ice. Perfect for those 95 degree afternoons.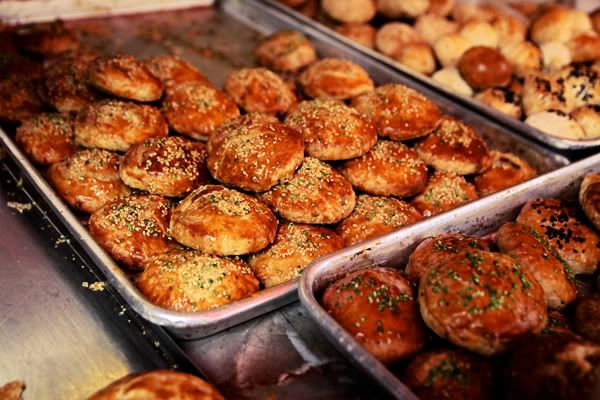 Chinese pastries on

Jonker

Street. Flaky.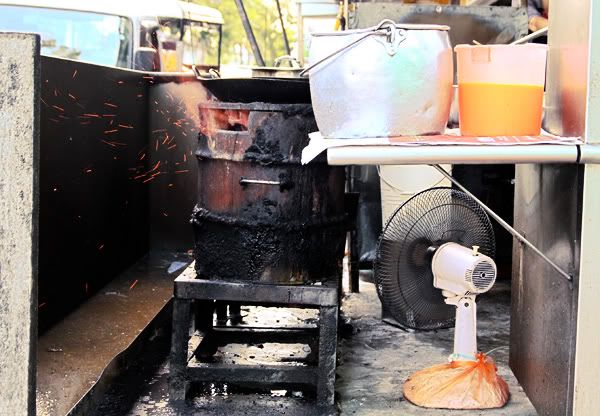 Meal of the trip right here. Charcoal wok-fired

Hokkien Char Mee

. This is a Kuala Lumpur exclusive so I hit up

Mei Yen

restaurant in Taman Paramount for a taste. I got there around 6 p.m. when the restaurant opened and was informed by another patron that the 'master' had not yet arrived and it was worth waiting another 1/2 hour or so to get the 'masters'

Hokkien Mee

. All I got is time, baby.
Fresh, fat and chewy egg noodles fried up with shrimp, squid, pork and and thick soy.

The

most important element, however is the rendered pork fat for frying the dish- giving it the utmost unctuous nature. No doubt the plate has the power to stuff up your coronaries in one sitting, but you'd die with smile. Pure sin. Don't forget about the crunchy fat bits they throw in the mix.
Dude's been stir-frying since the 70's.
Fittingly finished off the trip with a 4 a.m. airport McMeal. I was McCurious aight? First McBurger in almost a McDecade. Hit up the McToilet a few too many times after, so I think I'm good for another 10 years.
Also, check me out 1,2. Here's a lil' interview I did for British website qype.com.