Sometimes you find yourself craving

'

đồ

ăn tây'

[western grub] but don't wanna make the trek into the citAY centre. What's a burger-craving American to do, yo? Scoot down Bắc Hải street to your local sidewalk-burger-fry-up. What?! Yeah.
Cali has the taco truck, Hồ Chí Minh City has the three wheeled burger patty express. Instead of char-grilled your patty is freshly fried up in a pan of lukewarm oil. Instead of pickles

[

mắc] , you get cucumbers [

rẺ

lắm

]. Instead of a 1/3 pound patty: 1.5 ounces. That's probably even a stretch.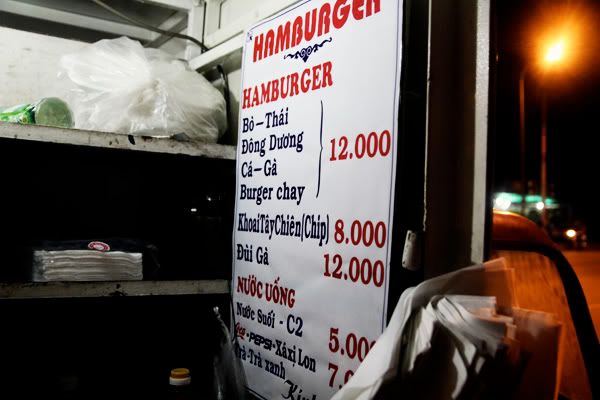 They keep the prices reasonable [

giá bình dân

]

, which you have to respect. As you can see, the menu doesn't just stick to beef but also features chicken and fish patties, veggies burgers and french fries.
As for the actual patty itself, it's nothing to lust over but that underlying charm shines through. The super flyweight patty make Calista Flockhart look chunky, and it probably won't suffice as a full meal for most folks over 45kg. At the same time this is a clear example of why Asian's B.M.I. cannot compete with the U.S. I mean, just check out what we snack on when hunger calls. Sadly, the young Vietnamese who can afford KFC and Pizza Hut are getting tubbier by the day...and the opening of 25

Carl's Jr.

joints in the near future won't help matters. Keep it traditional

Việt Nam

, you don't wanna follow our recipe for obesity.