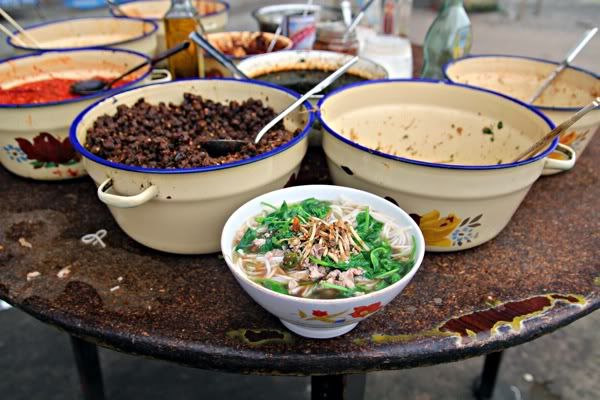 Continuing through the one and only people's republic, making my way down south from Sichuan in the Yunnan province. During the descent from many thousands of feet, my ears and toes gradually defrosted, and ingredients like lemongrass and mangoes even made much appreciated appearances. Take a peek at what I got into: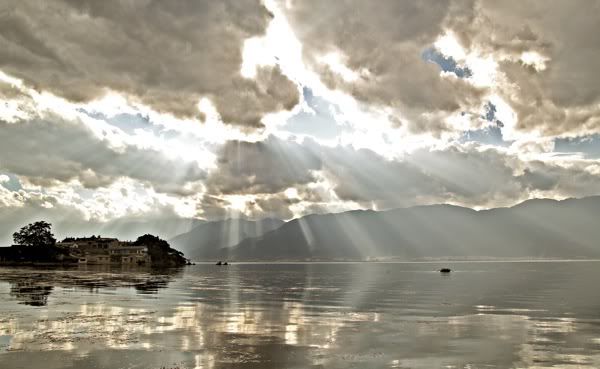 洱海 (ěrhǎi: Er Lake) Yunnan Province.
Steady sprinkling freshwater shrimp out to dry...
..or if you can't wait that long grub 'em fresh with chili.
Cozy up to that clay pot. Those frosty mornings get a little warmer with chili-laced rice noodles.
Chili dusted Yak skewers. Born to please.
Freshly baked bread rolls served up on the side of the highway.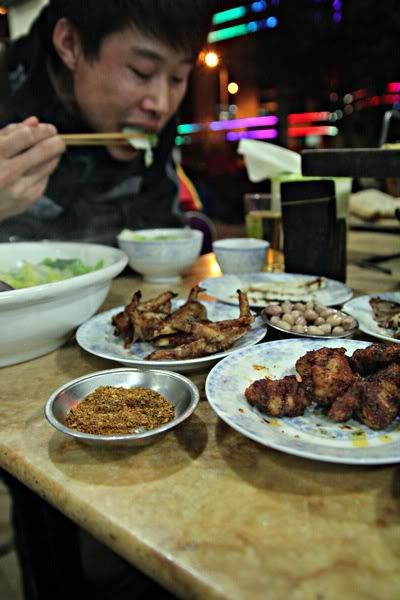 A simple grill shop for one of my most satisfying dining experiences. My buddy and I grubbed on chicken butt & feet, goat cheese slices, lotus root, mushrooms and slightly fermented tofu that was

off the chains

tasty after dipping in the Sichuan peppercorn oil-mixture.
The next night saw crispy fried grasshoppers and other treats. Crunchy and salty. My new friends invited me to eat via google translate: "We will eat larvae. Do you dare?" I dared. Didn't really taste like much..although the pig rectum they we're scarfing down was absolutely horrid. Porky shoulda used the do-it-yourself enema kit.
What's with the stink-eye girl?!
Fried cheese. Oh you betta' believe. Yunnan churns out some dairy-based gifts and these thin sheets of fried cheese are found all over town.
China truly has a little bit of

everything

on it's plate so let's not disrespect and try to sum it up in a single paragraph of a blog post. Honestly not my favorite country grub-wise but I will say the food I ate was honestly

bold

. They don't shy away from flavor. Salt, vinegar, chili paste, and

oil

. I'm fairly convinced cooking oil is tax deductible in this country. That being said you can get regional to satisfy your specific cravings. If you fancy

dim sum

and roast meats then head to the southeast. Need a lil' fire? Boat inland to HuNan, ChongQing or SiChuan provinces. On the east coast steamed pork dumplings won't raise any eyebrows but how about cumin scented lamb and grilled flat bread? I ate many meals that I wouldn't have considered 'Chinese' before sampling for myself. 2 months of meandering is really just a dip of the toe. Make your way over and discover some new ways to whet the appetite. A special land, indeed.