Today Los Angeles-based cinematographer Michael Rizzi takes us around his miracle-mile neighborhood, showing us a few of his regular spots for pleasing the palate.
L.A. is definitely one of those beef-cake-between-bun type towns. Everyone has a favorite, whether it be The Counter, Father's Office, Hole in the Wall Burger Joint or Apple Pan, the list goes on for days- kinda like that lovely afternoon 110 traffic. Old Raz (Michael) had told me about a spot that opened a bit ago just up the street from his house serving up crazy-mad tasty ground bovine creations to burger snobs and aspiring hipsters alike.

Umami

burger has been all over the press for years; time to give it the global examination. Up top we have the Umami burger for $11, which the chef pimps out with all sorts of drool-inducing goodies like oven dried tomatoes, house-made ketchup (with fish sauce!), shiitake mushrooms and even a Parmesan

frico

. The beef has a charred exterior and soft interior- the seasonings are ON POINT. It's not the biggest of the bunch at 6oz, but you're gonna savor every mouthful.
Sushi is also a pretty quintessential coastal California night out, so the old Raz introduced me to a place up the street which he's been known to pop into on the semi-regular. They call it Sake House. Options were pretty standard with

yakisoba

, salmon skin and

sashimi

but I was straight won over by the homey interior and flowage of

nigori

.
- - -
Okie, say it's the morning after and things are a bit hazy. More importantly your bowels are begging for a little bit of satisfaction. Enter the ever-essential first meal after daybreak: brekkie.
Here's Old Raz's thoughts on the matter:
" I used to not eat breakfast at all..back in high school and through college I didn't like breakfast at all. I think it was because I had to wake up so early and I always said that my stomach wasn't awake yet and so I'd get indigestion or I just would not be ready to eat breakfast but since graduating college...I've realized that breakfast really is the most important meal of the day because it gets you going. "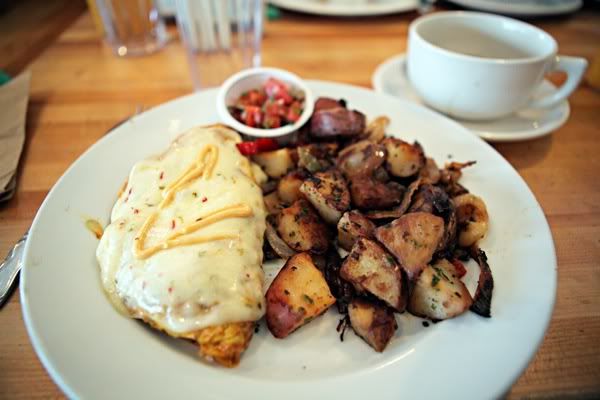 Heard that. Indigestion is a kill-joy for sure. Counter that with a chorizo-stuffed pepper-jack covered omelet with chipotle mayo. Disaster averted. Get your fill at The Hollywood Corner.
Oh and the Old does a bit of this and that in the kitchen as well. Perfectly tossed mixed greens with a balsamic vinaigrette, pan-charred chicken breast and precision-diced Hass avocado. Oh you thought you were gonna shed those pounds on the

barbacoa

burrito

diet? Guess again kiddo.
Next time we explore some newly discovered ethnic finds in the city of angels. Forget West L.A.