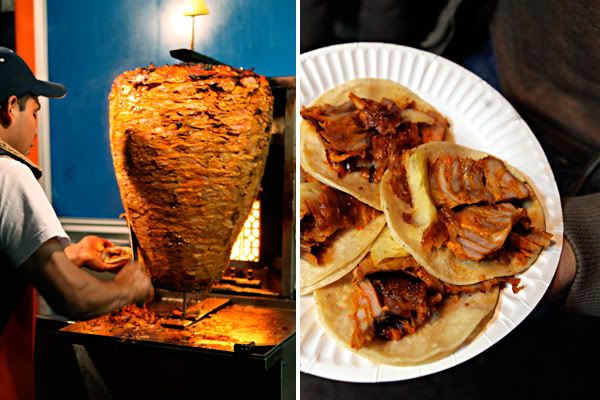 I'm a loyal follower of

Al Pastor

, the spit-carved spicy pork originally brought to Mexico by Lebanese immigrants. After arriving the marinade morphed from Yogurt based to ancho and guajillo chiles with pineapple- and

Pastor

style pork was born. Blessed the day. The city of Angeles has it's own mini-spit culture and I'd heard about a little truck called Tacos Leo carving up happiness nightly on the corner of Venice and La Brea. Charred, tender, full of flavor. Worth the wait, and well worth the $1.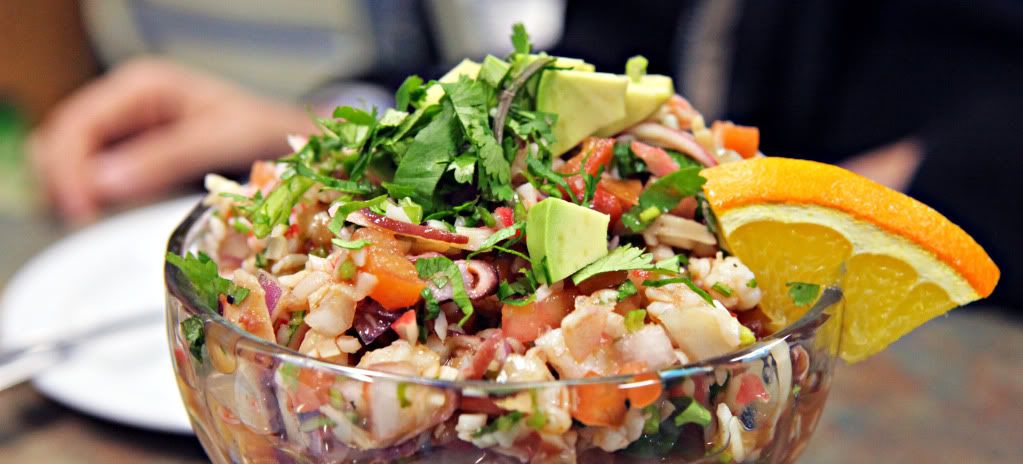 Make your way East towards downtown on Pico Blvd. and you'll find a hotbed of Latin edible delectables. Everything from Guatemalan eateries to Salvadorian

pupuserias

to illegal roadside tamale venders.

La Cevicheria

dishes up fresh Guatemalan and Peruvian style

Ceviche

with

Aji Amarillo

grown in the owners backyard. I know this cause he came out and yapped it up with us for a good 45 minutes. Give him your time and give the seafood a taste.
Dino's the man. His spicy grilled chicken draws folks from all over the sprawling metro area. As the story goes the Dino brought his grilled chicken recipe over to from Greece many years back. In order to cater to his new clientele he spiced up the marinade and added the uncharacteristic corn tortilla on the side with the grilled bird. Anyways, all you need to know is it's a mean tasty deal. This monster plate of spuds with the chicken and tortillas for something like 6 bones? With an

Old Raz

tossed green salad you've got enough for two.
Langers. A Los Angeles Institution. Forget New York, some folks say it's the best Pastrami in the States. At first glance the $14 sandwich seems slightly overpriced (even for this type of establishment). Then on second glance I had a second thought: Most people wouldn't think twice about spilling that on a burger. What we have

here

is massive piles of cured, smoked and steamed brisket that's gone through a process way more time & labor intensive than the grind and grill method for most patties. It's also amazing, so just order and enjoy. The pastrami is tender, smokey and...just right. A couple thin slices of cheese and a bit of thousand island spread to moisten it up between a couple slices of stellar rye bread. One menu oddity: $14.25 for a small salad & $14.75 for a large! Supersize me child!
Here's a short list of my go-to spots from yesteryear in L.A.:
Las Fuentes
Carne Asada Burrito. Incredibly consistent.
Yuca's
Cochinita Pibil.
Roscoe's
Carol C. Special...duh.
Zankou Chicken
Garlic Sauce. Order extra and take it home. Trust.
La Baguette
[ 7245 1/2 Reseda Blvd
Reseda, CA 91335 ]
Before they hit Williamsburg, this was my spot for

Bánh Mì

. I even wrote an article about this place for my school's magazine - although I spelled them BAHN MI back then!
Loteria Grill
Mingle with the bold and beautiful over at the Grove then get yourself a shredded beef burrito up in here.
Scooby's
Don't waste your time standing in line at Pink's. The dogs and fries at Scooby's are greasy and satisfying.

Mom's BBQ
Get your soul on.